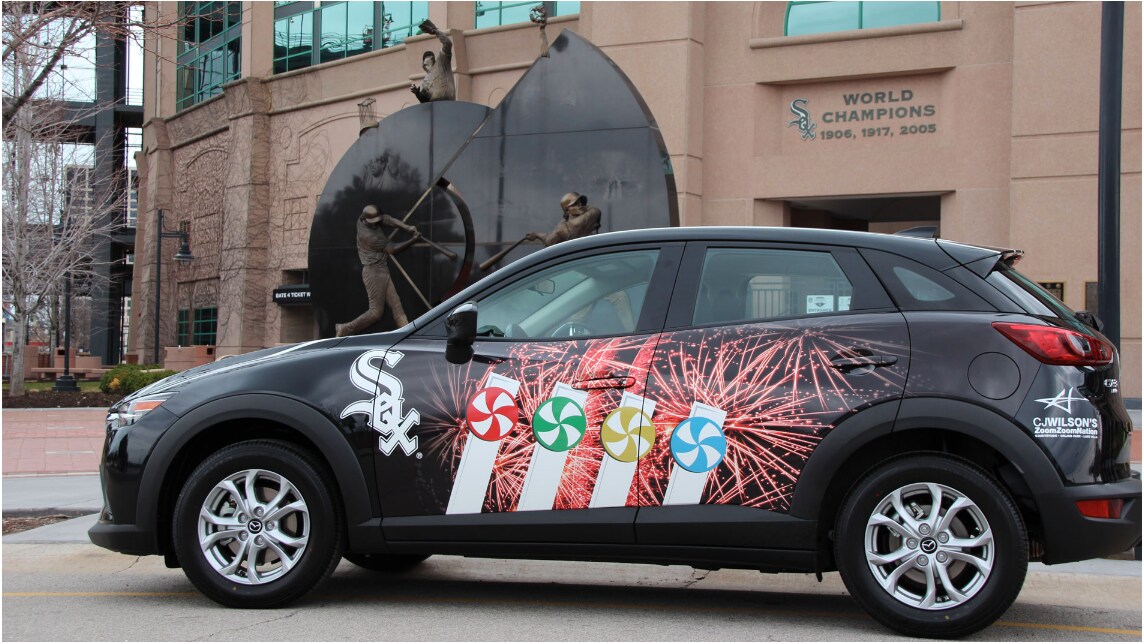 By The White Sox
Want to win a new care and support the White Sox charitable efforts? The club and Chicago White Sox Charities are again offering the chance for one lucky fan to drive away in a White Sox-themed 2016 Cx-3. The winner will be awarded the car on the field, have his/her photo taken at Fan Appreciation Day, taking place on Sunday, October 2 at U.S. Cellular Field.
---
Congrats, North American Tech Champs!

CJ Wilson Mazda and the ZoomZoomNation picked up a national championship at the North American Master Technician Competition in Irvine, California, this weekend. CJ Wilson Mazda Master Tech Dan Gleason was one of only eight techs invited to compete at the North American (includes Canada, Mexico and Puerto Rico) level. His victory marks the highest recognition a technician can receive from Mazda in North America. He flies to Japan for the global competition next year. 
"Dan really had the chance to show his knowledge of Mazda vehicles and his Mazda pride," says Eric Vates, vice president of the CJ Wilson Mazda dealer group. "I could not be more proud! What an awesome achievement."
Featuring a recent rebuild at the dealership, the outlet wrote:
"This car's transformation begins with C.J. Wilson, pro baseball pitcher and total car nut. The dude recently made the rounds for road tripping in his 
hyperblurple McLaren P1
, he runs a Mazda Miata race team, and he has a host of Mazda dealerships to back up the whole operation. That's where this all comes together."
This is the 19th time Mazda North American Operations has hosted the North American Master Technician Competition. Finalists earn their spots after competing in their respective regional competitions in October 2015. Winners are flown to Mazda's HQ headquarters in Irvine, Calif. to participate in the North American competition. The competition consists of challenges where technicians are all asked to solve the same customer concerns in an identically equipped Mazda vehicle. The technician who solves the problem in the most thorough, quickest manner is determined to be the winner. From there, the winner will be flown to Mazda Motor Corporation headquarters in Hiroshima, Japan to represent North America in the Mazda Global Master Technician Competition in early 2017. This is the highest recognition a technician can receive from Mazda.
---

From Chicago Red Stars
The CJ Wilson Mazda logo features prominently on all Chicago Red Stars jerseys this 2015 season. That's because of a renewed partnership between The Chicago Red Stars and CJ Wilson Mazda, announced April 22. The partnership began almost exactly one year ago. As part of the deal, all three of the Chicagoland Mazda dealer group's locations have sponsored a team vehicle for the National Women's Soccer League club, a brand-new Mazda CX-9. Additional partnership elements will be activated over the course of the year.
"C.J. Wilson Mazda has been an absolute pleasure to work with over the past year and we couldn't be happier to be continuing this relationship on a grander scope for 2015," Red Stars General Manager Alyse LaHue said. "Their commitment to the community is second to none and they are the ideal partner for us to be aligned with."
The sentiment was echoed by Eric Vates, vice president of the CJ Wilson Mazda dealer group.
"We love being in the community and working with the community, and we love the Red Stars," Vates said. "The Red Stars are real community role models and we're proud to be part of the team. Zoom zoom!"
CJ Wilson Mazda has locations in Orland Park, Countryside and Lake Villa, all of which are owned by Major League all-star pitcher CJ Wilson. Additional information about the dealerships is online at at www.zoomzoomnation.com.
The Chicago Red Stars continue their 2015 NWSL season this coming Saturday, April 25, with their massive home opener against star-studded league leaders Portland Thorns FC. Single-game and season tickets may be purchased by visiting www.chicagoredstars.com or by calling 773-698-6001.
---

From White Sox Charities
Starting May 7, 2014, Chicago White Sox fans will have the opportunity to purchase raffle tickets to win a White Sox-themed 2014 Mazda3 i Touring hatchback, donated by CJ Wilson Mazda. All proceeds benefit Chicago White Sox Charities (CWSC).
"The car raffle is a great way to engage fans, while also giving to a worthwhile cause," said Christine O'Reilly, executive director of Chicago White Sox Charities. "We are thankful to our generous fans, sponsors and friends, especially CJ Wilson Mazda for donating this special White Sox car. We cannot wait to give the keys away to a lucky fan in September." 
Read More
---
CJ Wilson Mazda proud to support Red Stars

From Chicago Red Stars
The Chicago Red Stars announced an agreement with CJ Wilson Mazda, naming the Chicago-based dealership the "Presenting Partner" of the team for their 2014 National Women's Soccer League (NWSL) season.
"Becoming the 'Presenting Partner' of the Red Stars was a no-brainer," says Eric Vates, General Manager of CJ Wilson Mazda. "We both take pride in Chicago and try to be the best at what we do."
"Aligning the Red Stars with a well-known local brand that also happens to be owned by a professional athlete gives our organizations a natural synergy," said Red Stars General Manager Alyse LaHue. "We are thrilled to present them on our 2014 jerseys and to share many exciting activation elements with fans throughout the season."
---
ZoomZoomNation launches athlete mentorship program
From the CJ Wilson Mazda Wire
The C.J. Wilson Mazda dealer group has announced the launch of a new mentorship program for young professional athletes. The first athlete to join the program is C.J. Wilson. Of course, the two-time Major League All-Star and auto dealership principal is clearly not mentoring himself. The C.J. in question is Curtis Junior Wilson, the rookie cornerback for the Chicago Bears.
Eric Vates, general manager of the C.J. Wilson Automotive Group, is excited. "C.J. is a rookie cornerback out of North Carolina State," Vates said. "His hometown of Lincolnton, North Carolina, has a population of just over 10,500-so he really is a small town kid in the big city. Basically, we are going to look for good, clean young players and set them on the right path. With 'our' C.J. as a role model, we expect our athletes to be clean living with heavy community involvement. The idea is to start these guys on the right path with the promise of them paying it forward to the next generation and doing the right thing in the community."
Vates believes this is the start of a significant and long-term program in the region. "The signing of young professional athletes helps mold future role models for our young people," he added. "The direction and example that these new athletes receive will be paid forward to future superstars in a continual cycle of development of upstanding young athletic heroes for the children of our city."
Baseball All-Star C.J. Wilson is fully behind the new initiative. "As a professional athlete, it is important to not only represent yourself the best you can-but to know who is counting on your character, on and off the field," Wilson said. "Team sports are great for building bridges, and we hope to promote good character within our own team. Eric and I and are happy to have Curtis on ours!"
For the NFL rookie, his ambitions for this season are pretty straightforward. "My goals for the year are to establish myself in the Bears defensive backfield and to represent C.J. Wilson Mazda and the C.J. Wilson Automotive Group as well as I can," Wilson said.
The Bears player has already displayed explosive pace at the NFL combine earlier this year, setting a time of 4.37 seconds in the 40-yard dash-though Vates expects him to avoid speeding in the Mazda CX-5 given to him by the Countryside, Ill.-based dealership.
---